How to link a TikTok store to ShipOut?
When mapping TikTok store products in ShipOut, it is necessary to map the seller ID of the TikTok store as the store product code, not the SKU ID of the TikTok store.
Linking to a TikTok store currently only supports pulling orders with an Order status of Awaiting Shipment and a Shipping method of Seller Shipping, as shown below.
Step One: How to Link Your TikTok Account on ShipOut:
Step Two: Enter Your TikTok Store Information.
1. Enter a custom nickname for the store as it will appear on ShipOut.
2. Enter the name of the warehouse in the store; if left blank, orders and
inventory from all warehouses will be synchronized. You can view the warehouse name and details from the 'Manage Orders' section; please refer to the position shown in the image below
3.Click "Connect" to go to TikTok and authorize ShipOut to access your order information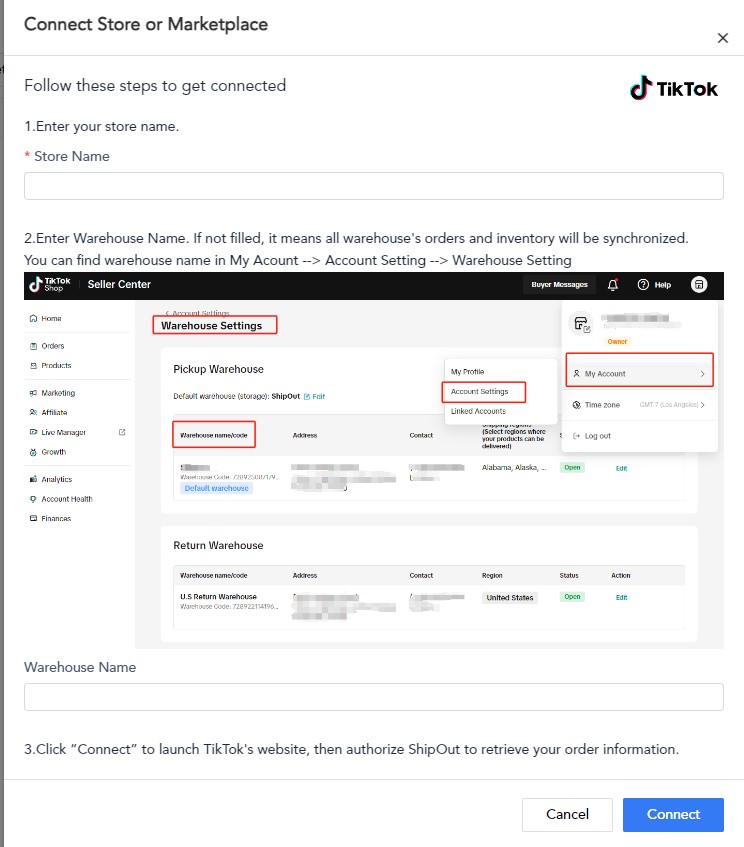 Step Three: Click the link to be redirected to the TikTok website and follow the prompts to grant authorization.
Step Four: Choose if you want to turn on automatic updates for orders, shipments, and inventory according to what you need.
Step Five: Set up the product mapping between your TikTok store and the OMS system.
You'll need to map the TikTok store's seller ID as the store product code, not the TikTok store's SKU ID. Refer to the image below to locate the corresponding seller ID.
Step Six: Import TikTok orders into the ShipOut system.
Section Two: Responding to TikTok-Related Inquiries
Second, after mapping, did you refresh the order data to reflect the new mappings? If you haven't, please go back and update the store orders using the option in the top right corner.